Submersible Turbine Pumps
Vertical Flow Industries state-of-the-art submersible turbine pumps are built on a solid reputation for efficient, reliable hydraulic performance. From custom built bowl assemblies, to discharge elbows, VFI submersible turbine pumps will deliver trouble-free operations and a long working life – with a superior customer service experience.
Vertical Flow submersible pumps and motors make an ideal for crooked wells, deep well applications and quiet operation. VFI is hard at work providing reliable service in a variety of agricultural, municipal, commercial and industrial applications. 
Contact the team at Vertical Flow Industries today to have your next submersible turbine pump built to your exact specifications or retrofitted to an existing application.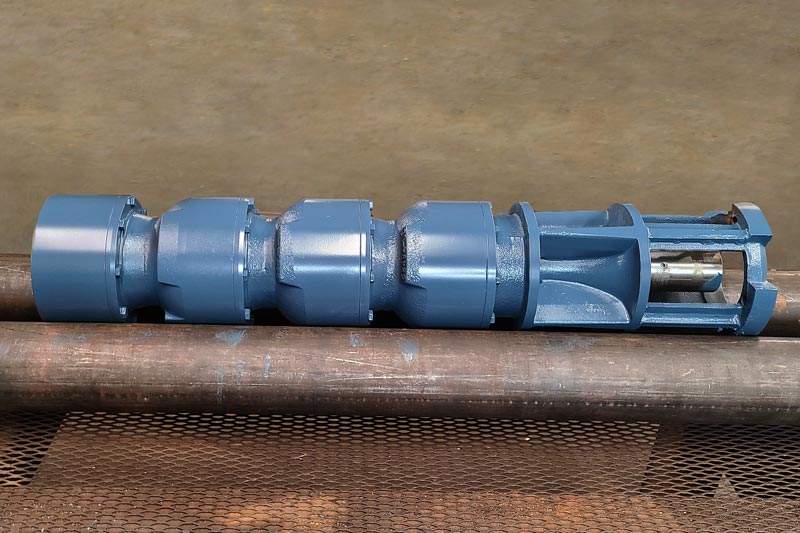 Our Submersible Turbine Pump Components Include:
Bowl Assemblies

Submersible Motors
Accessories

Discharge Elbows
Bowl Assemblies
Bowl Sizes 6″ – 14″ Nominal OD

Flows from 100 GPM – 3500 GPM

Cast Iron, Porcelain Enamel Bowls in stock

Specialty Bowl Materials, Ductile Iron, Bronze Alloys and Stainless Steel Available on Request

316, 304 & Bronze Impellers in Stock.

Motor Adaptors for 6 & 8 NEMA, 10″-14″ Motors
Submersible Motors
Sizes 6″ – 10″ Water Filled 3600 RPM

Sizes 10″ – 14″ Water Filled 1800 RPM

Standard Voltages 230/460, 2300V applications available upon request

VFI offers SME, Inc. and Centripro brand motors
Pump Accessories
Surge Control Valves 4″ – 12″

Submersible Pump Cable Flat or Round with Ground

600v or 5KV
Discharge Elbows
Sizes 4″ – 12″ Fabricated Steel Construction
Contact Us Today!
At Vertical Flow Industries, we recognize how important it is for your project to run smoothly and economically which is why our team of experienced technicians are on standby to provide professional advice and expert assistance. Contact the team at VFI today to have your turbine pumps, products or parts customized, engineered, fabricated or retrofitted to your exact specifications.